Our web solutions drive measurable results, today and forever.
A successful web solution that drives revenue, solves a business challenge, or improves how people interact with your business is the culmination of a lot of moving parts working in unison. We know what these moving parts are and how they fit together.
A good vs. a great solution?
It's a lot of little things that come together flawlessly to make the visiting experience amazing. Clients want web application development services to include knowledge of what to write and how to display it, how to lay out the design for your industry so that you don't stand out in the wrong manner, how to optimise it for different devices, and what technologies to use.
As a web application development business, we have gathered and incorporated that expertise, as well as a set of best practises, into our processes in order to create tailored guest journeys that are certain to open up new revenue streams for you.
Our professionals stay up to date on the ever-changing Google ranking protocols in order to keep you ahead of competitors.
See how we work
Our tech stack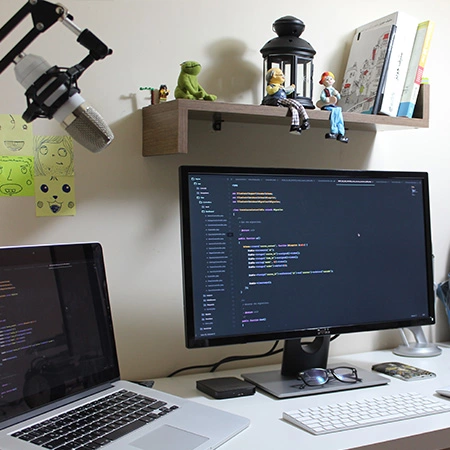 1
Discovery
We place a high value on the discovery process. It aids us in determining the 'perfect scenario' for the customer. We pay attention of any bespoke web development services that the customer expressly asks. Trying to picture it before putting it on canvas allows us to smooth out the bugs and allows our design team to do a market analysis. We can determine the expenses and deadlines for the procedure and convey them to you.
Timeline
Deliverables
People Involved
Business & Technical Leads Analysts
2
Design
This is the stage during which you will begin to see the initial versions of your web solution take form before it enters the development stage. Designers collaborate with the Commercial and Technology teams to create a Design Plan that contains wireframes and processes. The commercial and technology teams collaborate to determine the actual time and investment necessary and convey their results via a high-level estimate.
Timeline
Deliverables
Design Document, Feature set for the website, Estimated timeline and Budgets
People Involved
Web Project Lead, UI and UX team members,
3
Development
The Work plan is never deviated from at O2SOFT. All of our hard labor in the previous week was done to ensure that every member of our team is aligned with your goals. This enables us to retain top quality, minimise time-consuming tasks such as functionality revision, and ensure that we stay within the cost we agreed upon with you.
Timeline
Deliverables
People Involved
Web Project Lead, Front-end and back-end developers, DevOps team
Our Experience
We create appealing user experiences that increase visitor retention, interaction, and activity. We've learnt how to create end-user encounters that turn visitors into committed clients. Our site designs are user-friendly, with a simple layout and layout that guides your customers to revenue-generating actions.
Hospitality Web Solution
What started as a simple web facelift project with the client quickly grew into a full-option website that is now geared towards 360 Degrees Customer Capture strategy. This fully responsive web solution is localised and deployed on AWS to reduce load time, intuitively and cleanly designed, and comes with a powerful backend module that helps our client keep track of their business.
Technology Portfolio
In most situations you control the pace for over one week. We spend plenty of time to find out everything you want. In terms of technology, because we have a great deal of expertise, we pick a technological platform that will work best for your budgets, timeframes and features. We have you, whether it's a custom-built React or Node solution or a bespoke WordPress solution.
Trusted by





Top app development company
---
Find the latest industry trends, to keep you at the top of your tech game. All curated by a top app development agency, read more on our blog.
Baby-step it… All the way to Development!
Share your idea with us and let us roll with it on our own for a while. Do it!
Contact Us
Learn more about our ethos.
It's how we do things that sets us apart. No rocket-science, it's just processes.
About Us